PTFE Washers made by Advanced Seals & Gaskets Ltd to our customers exacting requirements. We can manufacture virtually any given size of washer in various thickness.
PTFE Washers have the following attributes;
PTFE is an abbreviation for Polytetrafluoroethylene and has numerous applications.
It is white in colour when at room temperature and is available in cut sheet or continuous rolls with a maximum width of 1.22 metres. It comes in a range of thicknesses from 0.1mm through to 6mm, however it can be made thicker upon request.
PTFE Washers have excellent coefficient and low friction properties and can be used to provide a non-stick surface.
PTFE Washers will retain their high strength, toughness and self-lubrication at extreme low temperatures and still remain flexible at -79°c. This makes this material suitable for moving parts such as bearings and gears.
PTFE Washers have excellent die electric properties, this is particularly true at high radio frequency, making it suitable as an insulator for cable and connector assemblies. Combined with its high melting temperature PTFE Washers are a good choice for high performance applications. They have very high chemical resistance to alkali and acids and is used for parts in the petrochemical and chemical industries. It is also chemically inert and non-toxic.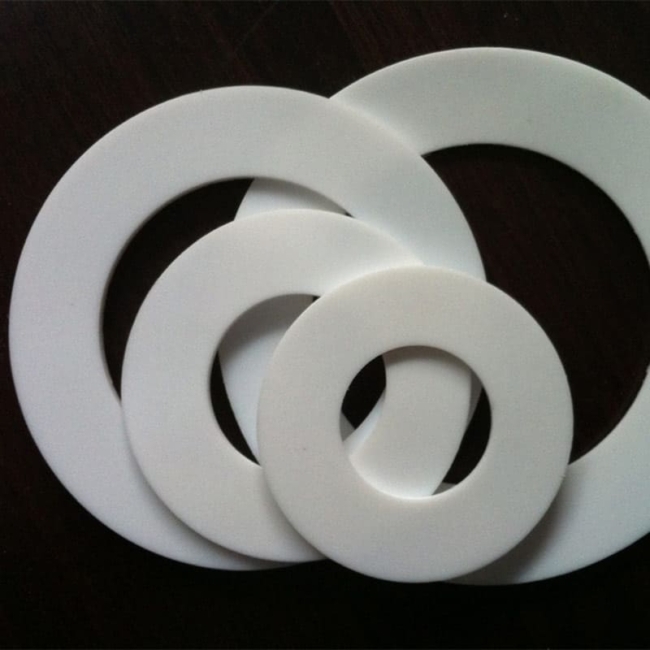 If you would like to speak to a representative to discuss your specific application or requirements please call our sales office direct on 01384 469100, alternatively you can send an E-mail. Simply click on the link and forward us your details along with your question and we will contact you immediately.
Samples - Technical PTFE Plastic Washers
Samples can be submitted for testing upon request.
Call now for sample requests or further help.
For information on PTFE Plastic Washers please complete the following quick enquiry or call us on +44(0)1384 252555.
Full technical data can be supplied upon request,
or downloaded from our online portal.