Here at ASG we provide a wide range of products which take advantage of the properties of EPDM foam.
These properties include the fact that EPDM foam creates a watertight seal which also prevents the migration of gases and particles. It is also resistant to a small degree of contact with oil, and generally to acids and alkalis.
The longevity it offers make it an excellent choice for any application which will have to deal with the impact of weathering, as does the fact that it is resistant to UV light and ozone.
EPDM foam also has a temperature range running from -35°C to +120°C, and the high elasticity of the foam, which can be as much as 400%, makes it the ideal substance for the manufacture of shock absorbers.
It's easy to confuse foam rubber with sponge rubber. The structure of each substance is vitally important, however. The partly opened cell structure of foam rubber means that it can acts as a gasket whereas the open structure of sponge rubber involves having to apply an outer skin if it is to be used as a gasket.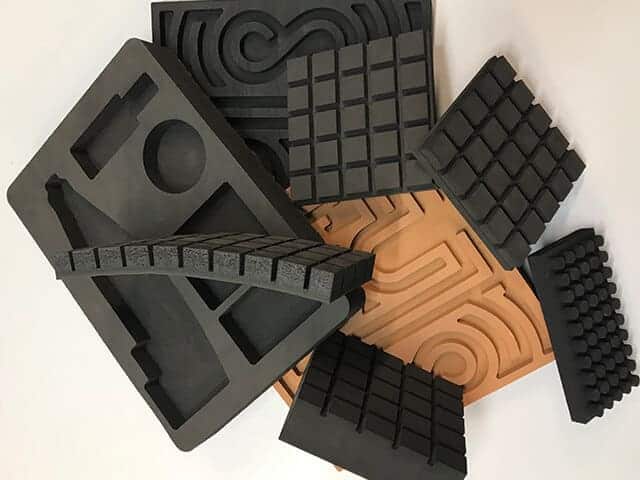 The applications of EPDM Foam are
Air flow control
Water leakage
Anti-vibration
Cushioning
Jointing expansion
Closure seals
Weather strips
Glazing
We manufacture EPDM foam to exactly meet the requirements of each customer, cutting to thicknesses ranging from 1mm to 50mm and also providing in-house lamination of multiple layers when a tougher solution is required.
We can also vary the actual density of the EPDM foam we produce so that it meets the precise specifications you come to us with. Many of the EPDM foam products we manufacture are used in the mass transit, construction, electronics and automotive industries, but whatever your requirements are, we'll work with you to create the solution you're looking for.
This could include die-cut gaskets, washers, strips, coils, sheets, seals and insulations, as well as foam tapes and foam which is either plain or backed with a self-adhesive backing on one or both services.
Self-adhesive foam of this type is often purchased in rolls or strips to be used for sealing doors in the refrigeration sector.
The fact that EPDM foam is available as a high temperature, hard, soft or super soft solution makes it particularly versatile, particularly for what is a relatively low cost solution.
Need assistance? Contact us today!