Perm Peel Acrylic Adhesive Tape
Advanced Seals & Gaskets Ltd manufacture and supply a diverse range of self-adhesive tapes and products including Perm-Peel Acrylic Adhesive Tape.
Perm Peel Tapes are made up of a combination of adhesives, a permanent adhesive on one side and a removable 'peelable' adhesive on the other. The permanent adhesive will firmly fix to uncoated materials, whereas the removable side is designed for use as a temporary surface application or for easy re-re-positioning without leaving any residues. Advanced Seals & Gaskets Ltd are able to manufacture a wide variety of products with Perm-Peel Acrylic Adhesive Tape including:
Sheet
Strip
Coils
Gaskets
Pads
Most of the above products can be manufactured using a range of our solid, sponge, PVC and polyethylene products, with either single of double sided self-adhesive backing. Perm-Peel Acrylic Adhesive Tape products can be found widely used in applications including Paper or card to plastic or glass for removal later on, attaching membership or bank cards to letters, attaching removable items or offers to brochures and magazines and temporary window displays, etc.
Key Characteristics of Perm-Peel Acrylic Adhesive Tape:
Attachment of a variety of materials
Easily removable tape - with no residues when removed
Easy repositioning or gaskets or displays
Low tack double sided tape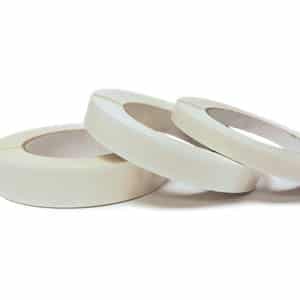 If you would like to speak to a representative to discuss your specific application or requirements please call our sales office direct on 01384 469100, alternatively you can send an E-mail. Simply click on the link and forward us your details along with your question and we will contact you immediately.
Quality of our Perm Peel Acrylic Adhesive Tape
The quality of service and the products manufactured from Perm Peel Acrylic Adhesive Tape is controlled by our Quality Management Systems which is certified to ISO 9001.
Call now for sample requests or further help.
For information on Perm Peel Acrylic Adhesive Tape please complete the following quick enquiry or call us on +44(0)1384 252555.
Full technical data can be supplied upon request,
or downloaded from our online portal.