Solid Polyurethane Rubber
Advanced Seals & Gaskets Ltd supply and convert a range of solid materials including various types of polyurethane (PU or PUR).  Solid polyurethane is considered to be one of the toughest wear-resistant materials on the market and often used as an abrasive resistant alternative to plastic or metal. 
Polyurethane is available in many grades, colours and hardnesses, manufactured in sheet or roll forms (depending on grade)for use in different applications.  Polyurethane can also be cut into products such as gaskets, strips and washers or supplied as moulded or extruded parts.
What is Solid Polyurethane?
Polyurethane is a polymer that consists of a chain of organic units, joined together by 'urethane' links,  the two components polyol and isocyanate are mixed in liquid form, creating a reaction that results in polyurethane, this mixture can be altered to create a range of properties. 
Polyurethane is often referred to as PUR or PU, it's a flexible material that can be manufactured to be either rigid or flexible, in a variety of hardnesses, colours, and various grades including FDA (suitable for food, drink and medical application) or flame retardant.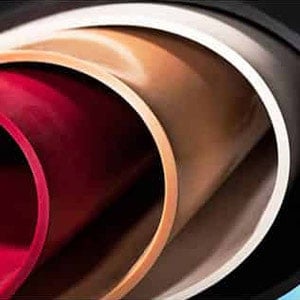 For information on Solid Polyurethane Rubber please complete the following quick enquiry or call us on +44(0)1384 252555.
Product Specification & Key Characteristics
Using abrasion-resistant rubber offers a host of properties, characteristics however these will vary between material types and grades, some of the features and benefits include:
Colours:

black, white, red, tan 

Resistances:

varying levels of abrasive resistance, oil, UV, Ozone, heat

Hardnesses:

various levels of hardness depending on material type

Temperature:

wide operating temperatures with certain types suited to extreme highs & lows

Shore Hardnesses (°A):

available between 35° to 95°
Full technical data can be supplied upon request,
or downloaded from our online portal.
If you would like to speak to a representative to discuss your specific application or requirements please call our sales office direct on 01384 469100, alternatively you can send an E-mail. Simply click on the link and forward us your details along with your question and we will contact you immediately.
Samples - Technical Solid Polyurethane Rubber
Samples can be submitted for testing upon request.
Call now for sample requests or further help.
Why use Solid Polyurethane?
Solid PU is are possibly one of the toughest materials available on the market, offering extremely high resistance to abrasion, resistance to oil and petrol, excellent insulation and good weathering properties.   Solid Polyurethane is mainly used in highly abrasive applications and can be utilized in the form of sheets, rolls, mouldings, extrusions and even cut parts such as gaskets and washers. Polyurethane materials are available in many grades and forms, allowing the material to be used in a broad range of applications including building insulation, automotive parts, tyres, machinery rollers, shoe soles, gaskets and washers, chutes and sleeves to name a few.
Advantages to using Solid Polyurethane
There are many advantages to using polyurethane rubber, some of which include the materials excellent resistance to abrasion, chemicals, oils, weathering and UV.  PU rubber is resilient to deformation under load, and highly tear-resistant even when subjected to vibration, expansion and contraction. 
Polyurethane rubber is available in a range of colours including red, blue, black, yellow and natural, and in hardnesses from around 35°A to 95°A offering a choice of very soft and flexible rubber or very rigid, almost like plastic.
Benefits of Using Polyurethane Rubber
Polyurethane rubber offers compression and tensile strength, resulting in excellent load-bearing properties and recovery following compression.

The materials excellent abrasion and impact resistant properties make the material perfect for use where it will be in contact with moving parts and materials such as sand, crushed aggregate, coal, taconite pellets, copper ore, phosphate rock, salt & wood chips.

Offers resistance to chemicals, oil, petrol, weathering, UV and corrosion

Can be used for noise reduction and electrical insulation applications

FDA approved - most PU materials will prevent mold and fungus growth, but additional additives can be added to enhance the FDA properties of the material.

non -marking so safe to use on painted surfaces
Advanced Seals & Gaskets work with a wide network of material manufacturers and suppliers, giving our customers more choice when looking for solid rubber, our most popular types of solid rubber roll include:
Neoprene (CR) is one of our most popular solid rubber materials, with various thicknesses held in stock.  Neoprene is suitable for use where there is exposure to grease, oil, acids, ozone and even seawater.
EPDM (Ethylene Propylene Diene Monomer) another very popular solid rubber great for use in outdoor applications. This material is resistant to water, UV, ozone, weather, abrasion, alkalines, ketones and diluted acids.  
Nitrile (NBR) rubber is a popular solid material for use within the automotive industry where there is contact with petroleum, oil and grease.  
SBR (Styrene-butadiene rubber) is a cost-effective, commercial-grade, general-purpose rubber with good abrasion resistance, tensile strength and low compression set.  SBR rubber is not suitable for applications involving chemicals, ozone, very strong acids, grease, fat oils and hydrocarbons.
Silicone (SI) is an excellent electrical insulation material that can operate at high and low temperatures. Silicone rubber performs well when exposed to UV, weathering, ozone and moisture, and is available in a range of colours.
Viton rubber materials are manufactured for more demanding applications where there are harsh chemicals and high temperatures present.  Viton rubber offers resistance to fluids, oils, acids and petroleum-based liquids.
For samples, datasheets or to discuss your sheet needs further, please give a member of our sales team a call.
Have a Question about Solid Polyurethane Rubber?
Please contact us using the form below or by calling us on +44(0)1384 252555.