Advanced Seals and Gaskets Ltd. (ASG) have been the leading UK manufacturer of neoprene gaskets since 1996. When it comes to neoprene rubber gaskets, we can deliver solid grade and thickness dictated by the application in question, and use our in-house facilities to die-cut bespoke items for small or large product runs.
Come to us with your requirements and we'll deliver the solution, from standard square or rectangular gaskets to tailored items requiring notches, slots and bolt holes.
In simple terms, gaskets are rings or sheets of a substance which act as a seal between two surfaces or more. Since gaskets of this type prevent leakages of liquid or gas, keep joints air-tight and prevent the intrusion of damaging debris such as dust, they can be used in a huge variety of applications. The fact that they are soft and can operate efficiently when compressed makes them the ideal choice to fill gaps in machine parts.
Gaskets play a hugely important role in the engineering and industrial sector, being vital in the operation of large-scale institutions such as oil platforms and nuclear reactors.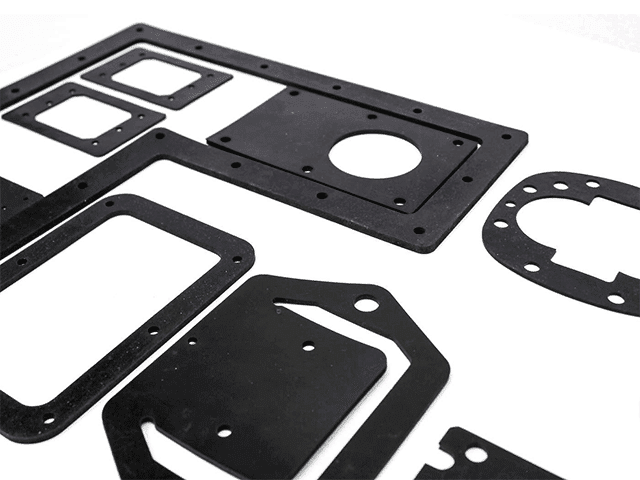 The Benefits of Neoprene Gaskets
Reducing operational noise
Absorbing shock
Cushioning against abrasion
Acting to seal a link between pipes or connectors
The resistance and transmission of electricity
Insulating electrical charges
Why use neoprene gaskets?
The fact that neoprene rubber gaskets combine strength and durability with the flexibility needed to compress when bearing a load makes them the ideal choice for a range of applications in sectors such as construction, plumbing, lighting, automotive and aerospace.
The fact that neoprene gaskets also offers Oil Resistance, high resistance to the environmental impact of salt water, ozone and natural aging means that the seal they create offers stability and longevity.
ASG supply the full range of neoprene gaskets in black only.
Self-adhesive neoprene gaskets
As well as standard neoprene gaskets, ASG supply self-adhesive neoprene gaskets. The adhesive in question fixes each gasket in place, ensuring it remains stable even if the application moves. Clients can choose adhesive which is low, medium or high tack, depending upon the individual requirements, and members of our sales team are on hand to answer questions or offer advice.
Grades of neoprene rubber gaskets
Since we pride ourselves on providing exactly what each client needs at ASG, we supply gaskets in different grades of neoprene, depending upon the demands of each application. In addition to British Standard grades of BS2752 variants (c40, c50, c60) we utilise general commercial grades of neoprene. Speak to our sales team if you have any questions about the grade you require.
The strong, synthetic material from which neoprene gaskets are cut makes them ideal for external sealing applications. As well as offering excellent resistance to abrasion, these gaskets are resistant to being degraded by ageing, weathering or ozone.Whilst operating well in the presence of vegetable oils, animal fats and inorganic salts, neoprene gaskets shouldn't be used in the presence of aromatic hydrocarbons and ketones.
When we say that ASG supply gaskets for use in the widest possible range of sectors, we mean it. That's why we provide gaskets which meet legal requirements regarding BS 2752 compliancy, food approval and flame retardancy. In addition, all of our gaskets, from standard to dovetail and picture frame, can be provided in high or low volumes depending upon client requirements.
Neoprene Rubber Gaskets - Flame Retardant, Anti-Static
Our flame retardant and anti-static neoprene rubber gaskets are manufactured from material which meets ISO 340 and the American flammability standard UL94-V0. In addition, they offer a maximum surface electrical resistance of 3 x 108 Ω and the anti-static properties meet BS 490. This is on top of the standard neoprene gasket characteristics of being resistant to the negative impact of weathering, animal fats and inorganic salts.
The advanced in-house technology utilised by ASG means that we can provide custom made gaskets cut to order, including dovetail, standard flange and picture frame gaskets.
Neoprene is the DuPont trade name for chloroprene, which is a synthetic rubber with a wide range of uses.
As well as being able to withstand temperatures ranging from a low of -40°C up to a high of 120°C, it offers excellent resistance to UV rays and ozone damage, good general resistance to petroleum-based fuels and oils and robust chemical stability.
The fact that neoprene is waterproof and works well under pressure makes it the ideal material for gaskets to be used in deep sea applications, while its noise insulating properties mean it is often featured in household appliances that call for lower levels of noise and movement.
The advantages of using neoprene as a material
Thermal stability – it retains flexibility over a wide range of temperatures
Environmental resilience – the fact that it is waterproof resistant to corrosion makes it ideal for a wide range of environments
Chemical resistance – neoprene works without being overly compromised by weathering or common fluids
Durability – the longevity of a neoprene gasket greatly reduces expenditure on maintenance and replacements
Need assistance? Contact us today!