Advanced Seals & Gaskets are leading manufacturers of Acoustic Foam gaskets, all produced in-house using state of the art machinery and bespoke tooling. 
We work closely with our customers to provide high quality gaskets to their specifications, drawings or samples and able to keep lead times and costs to a minimum as we do not need to rely on external manufacturers. 
From a standard rectangular gasket, gasket tape or customised items requiring slots and bolt holes, we can deliver 1 off or 1000's off product runs, in thicknesses of just 1mm thick up to 100mm thick (without laminations).  
Acoustic Foam material is flexible, easy to fabricate and pressed into a variety of shapes for ease of application onto curved surfaces.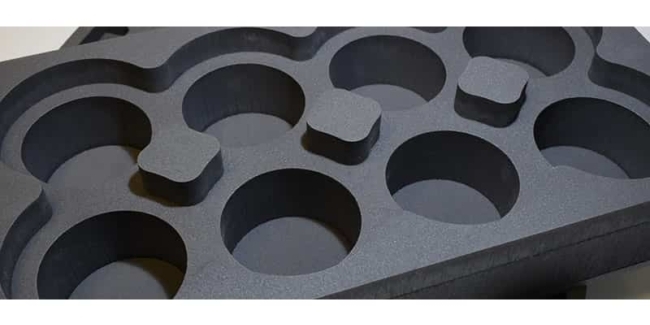 For information on Acoustic Foam Gaskets please complete the following quick enquiry or call us on +44(0)1384 252555.
Product Specification & Key Characteristics
Colour: Anthracite

Density: <90KG/M³

Fire Propagation Index: <12

Operating Temperature: -30°C to 100ºC

Thickness: 1mm – 100mm (can be laminated for greater thickness)
Full technical data can be supplied upon request,
or downloaded from our online portal.
If you would like to speak to a representative to discuss your specific application or requirements please call our sales office direct on 01384 469100, alternatively you can send an E-mail. Simply click on the link and forward us your details along with your question and we will contact you immediately.
Samples - Technical Acoustic Foam Gaskets
Samples can be submitted for testing upon request.
Call now for sample requests or further help.
What are Acoustic Foam Gaskets?
Gaskets are a ring, sheet or cut shape substance or material used to act as a seal between surfaces. The purposes for gaskets of this type are to prevent leakages of liquid or gas, keep joints air-tight and prevent the intrusion of damaging debris such as dust.
Acoustic foam is an open cell, lightweight, class O fire rated polyurethane material that is primarily used in soundproofing applications such as recording studios, and It is a non-fibrous foam meaning the gaskets can be used within airflow systems as the material doesn't shred, dust or migrate when exposed to high velocity airflow. 
Acoustic Foam is resistant to most fungus, mildew and bacteria growth as it contains anti-fungal agents which makes it a popular choice for use within the air conditioning and duct-work systems.
Self-Adhesive Acoustic Foam Gaskets
Class O Acoustic Foam Gaskets can be manufactured with a plain or self-adhesive backing to allow for easy installation and to hold the gasket in place, ensuring it remains stable even if the application moves.
Clients can choose from a selection of adhesives including acrylic, scrim and tissue with low, medium or high tack options, depending upon the individual requirements.    Acoustic foam gaskets can also be cut from foam laminated to a range of our other materials using spray adhesives.
Why use Acoustic foam gaskets?
There are various ways in which our customers utilize acoustic foam gaskets, these include sound absorption. Due to its excellent sound dampening properties, acoustic foam gaskets are often used for fittings within marine applications, recording studios, acoustic/compressor or generator enclosures, etc.
Many industries also utilize acoustic foam gaskets for insulation, vibration control and cushioning due to the materials exceptional fire resistance properties (Surface Spread of Flame Class 1 BS 476 part 7 and Building Regulations 1991 (fire safety) Class 0 BS 476 part 6&7).
These include heating & ventilation, construction, automotive, and electrical equipment and appliance manufacturing.
Benefits of Acoustic Foam Gaskets
Fire Rated:

Surface Spread of Flame Class 1 BS 476 pt7

Building Regs 1991 (fire safety) Class 0
UL94 flammability self-extinguish after removal of flame.

Non-toxic


Mildew / Fungus Resistance

Chemical Resistant 

HCF (

hydrochlorofluorocarbon) &

CFC (

Chlorofluorocarbon) free

Lightweight, flexible & easy to fabricate
Advantages of Using Acoustic Foam Gaskets
Acoustic foam gaskets hold various advantageous properties that are highly utilizable in a variety of industries. 
The greatest advantage of using acoustic foam gaskets is the exceptional noise dampening capabilities of the material. As acoustic foam is an open cell material it is highly effective at absorbing sounds as well as cushioning and padding.
Acoustic foam gaskets commonly used as the material performs multiple functions at the same time, while the acoustic foam gasket is applied for cushioning the material will also absorb sound waves dampening the noise. 
For further information on the many advantages of acoustic foam gaskets please get in touch with our team.
Have a Question about Acoustic Foam Gaskets?
Please contact us using the form below or by calling us on +44(0)1384 252555.