Checker Plate Rubber Matting Roll
Advanced Seals & Gaskets Ltd are leading suppliers of Checker Plate Rubber Matting rolls.  Checker Plate Rubber Matting is popular, runner matting with a choice of a single or 5 bar' pattern on the surface.
Checker Plate Rubber Matting rolls are a general purpose matting used where a non-slip multi-directional tread pattern is required.  These mats are usually used in walkways and as tread mats, however can also be used for car boot liners, dog runs/kennels, horsebox living areas and tack rooms.
***We would NOT recommend Checker Plate Rubber Matting for use on ramps or any areas where slipping may occur or in areas that horses or cattle stand on or walk***
Checker Plate Rubber Matting rolls are available in thicknesses of 3mm and 4.5mm and standard roll length of 10mtrs. These rolls can be cut down to suit, and supplied with a self-adhesive backing if required.
Quality of our Checker Plate Rubber Matting Roll
The quality of service and the products manufactured from Checker Plate Rubber Matting Roll is controlled by our Quality Management System which is certified to ISO 9001.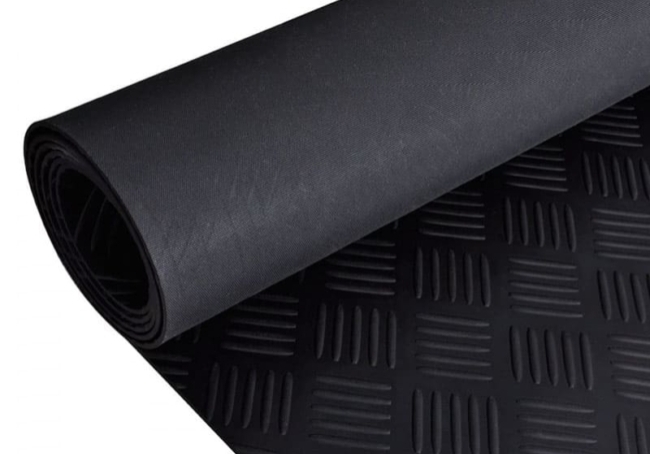 If you would like to speak to a representative to discuss your specific application or requirements please call our sales office direct on 01384 469100, alternatively you can send an E-mail. Simply click on the link and forward us your details along with your question and we will contact you immediately.
Samples - Technical Checker Plate Matting
Samples can be submitted for testing upon request.
Call now for sample requests or further help.
For information on Checker Plate Matting please complete the following quick enquiry or call us on +44(0)1384 252555.
Full technical data can be supplied upon request,
or downloaded from our online portal.