Advanced Seals & Gaskets are leading manufacturers of custom made Neoprene sponge fabrications in a wide variety of grades.
Advanced Seals and Gaskets Ltd enjoys many global partnerships with our suppliers and this has resulted in the ability to source raw materials, worldwide, at extremely competitive prices.
We also have the ability to store large volumes of stock within our 2/3 acre site, thus allowing us to offer rapid lead times and the very best prices to our customers.
Our expertise in Neoprene sponge fabrications has grown throughout the company's history to become one of the leading suppliers of this type of finished product in the UK.
Today we have a dedicated team of highly skilled operatives producing complex Neoprene Sponge Fabrications to specific customer requirements. This high level of skill, accompanied with an extensive range of machining capabilities allows us to meet the high demands of our customers.
For many customers producing a Neoprene Sponge Fabrications is an ideal opportunity to manufacture prototypes before commissioning tooling and bulk production, this allows our customers to trial product designs without the need for the capital costs of tooling.
For other customers, Neoprene Sponge Fabrications are a necessity due to the complex shapes they require. Often customers require countersunk holes or recesses within the product. Traditional die cut shapes do not allow these options.
Our capabilities on Neoprene Sponge Fabrications
Our fabrication department has a comprehensive range of equipment needed to manufacture Neoprene Sponge Fabrications , including routing , water jet cutting , drilling , multi angled saws for chamfering and cutting profiles & bonding facilities for bonding layers of materials and joining rings. Our fabrication processes allow us to accommodate both large and small volumes meeting the needs of our customers.
Neoprene sponge fabrications can be manufactured in either plain or self-adhesive coated and can be made in almost any size, shape or format enabling us to provide solutions for our customer's applications including.
Automotive
Marine
Building & construction
Aerospace
Defence
Electronics
General engineering
Neoprene sponge fabrications are available in various densities (soft, medium or firm) and can also be provided as flame retardant if preferred. Neoprene sponge is a flexible closed cell material and has many key characteristics including oil resistance, resistance to some chemicals, UV light resistance, ozone resistant and good thermal resistance. The above features endear Neoprene sponge fabrications to most environments.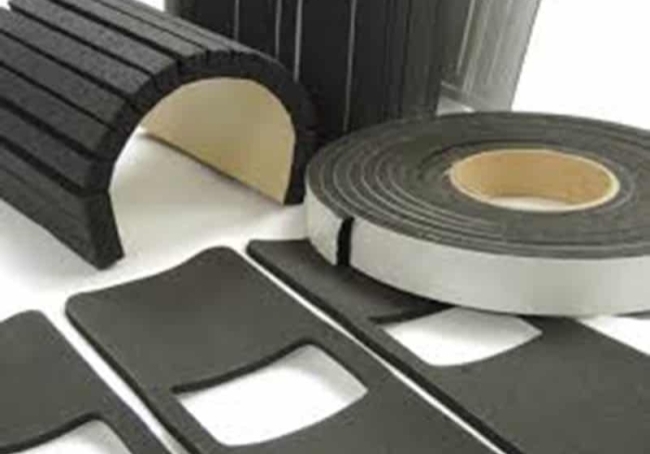 Our capabilities on Neoprene Sponge Fabrications
Hand bonded rings
Hand fabrications
Machining
Plain
Self-adhesive
Joint seals
Profiles
Sections
Case inserts
Packing pieces
Bonded frames
Bonded gaskets
If you would like to speak to a representative to discuss your specific application or requirements please call our sales office direct on 01384 469100, alternatively you can send an E-mail. Simply click on the link and forward us your details along with your question and we will contact you immediately.
Samples - Technical Neoprene Fabrication
Samples can be submitted for testing upon request.
Call now for sample requests or further help.
For information on Neoprene Fabrication please complete the following quick enquiry or call us on +44(0)1384 252555.
Full technical data can be supplied upon request,
or downloaded from our online portal.