One of the many solid materials offered by Advanced Seals & Gaskets Ltd is nitrile rubber (NBR), this material is manufactured in roll form usually at 1.4mtrs wide x 10mtrs long and in thicknesses starting at 1mm, which are stocked by ASG ready to be converted into various other products.
Nitrile sheets can be cut down to our customers desired size, and then supplied with a plain or self-adhesive finish using our in-house laminating service. Nitrile rubber is often taken in roll form or as sheets as they give the customer and end-users the flexibility to cover large surface areas and to be able to cut their own strips/gaskets/washers/pads out as and when they are required.
Nitrile rubber sheets can be produced in different grades, and range of hardnesses from 40°- 70° shore (the shore hardness is measured using a shore durometer which indicates the level of resistance to indentation, the higher number on the scale indicate a greater resistance - harder the material/lower number indicate less resistance- softer the material). Nitrile rubber sheets and components manufactured from are commonly used in automotive and aerospace sealing applications as the material has excellent resistance to oils, fuels and gases.
Nitrile rubber is sometimes also referred to as Nitrile butadiene or NBR rubber, which is a synthetic rubber produced from a copolymer of acrylonitrile (ACN) and butadiene. Nitrile rubber sheets can be purchased in pre-cut sizes, or as a full roll of material and are ideal for the production of parts used where oil resistance is required including fuel hoses, automotive seals, gaskets and even rollers within the printing industry. 
Typical compounds of nitrile rubber sheets give good resistance to mineral oils, vegetable oils, fuels, petrol, ordinary diluted acids and alkalines.  Nitrile rubber sheets can be used to cut and form into a range of other useful products such as gaskets, strips, washers and sleeves, etc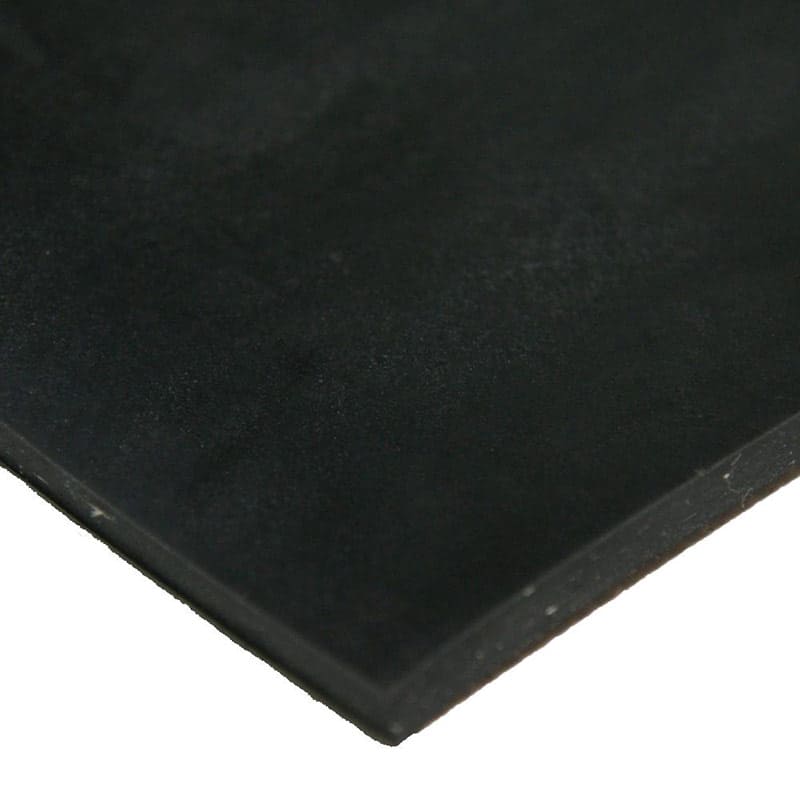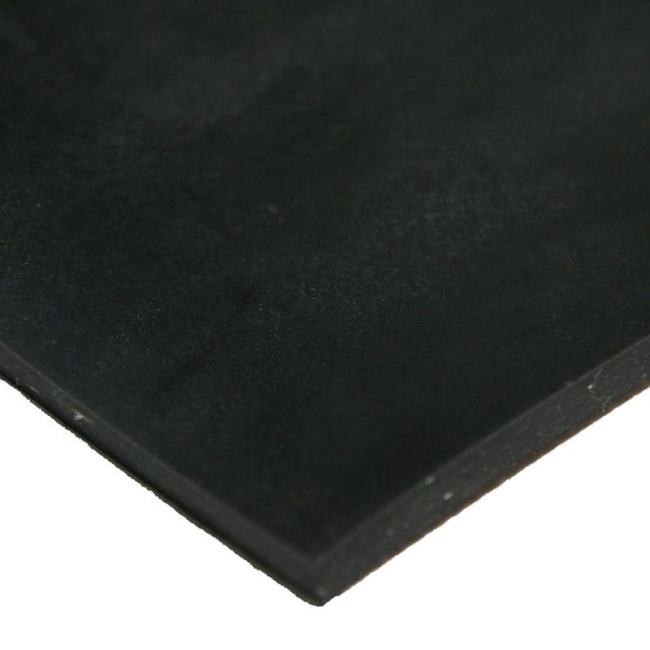 For information on Nitrile Sheet please complete the following quick enquiry or call us on +44(0)1384 252555.
Product Specification & Key Characteristics
Colour: Black (white or blue in food grade)

Shore: 40 – 70 Shore

Resistances: Oil, Water, abrasion/rear, petrol/fuel

Temperature Range: -20°C to 70°C

Thickness: 1mm - 25mm (flat seals/washers) - bespoke thickness for extrusions/mouldings

Elongation At Break: 250%
Full technical data can be supplied upon request,
or downloaded from our online portal.
If you would like to speak to a representative to discuss your specific application or requirements please call our sales office direct on 01384 469100, alternatively you can send an E-mail. Simply click on the link and forward us your details along with your question and we will contact you immediately.
Samples - Technical Nitrile Sheet
Samples can be submitted for testing upon request.
Call now for sample requests or further help.
ASG supply sheets in a wide array of materials such as EPDM, neoprene, rubber, plastic, polyethylene, polyether and polyurethane and many more. We cut our sheets in house using our state of the art machinery, allowing us to work closely with our customers to provide sheets in the desired specifications such as width, thickness and length. Get in touch for more information on our range of sheeting.
Nitrile rubber has many excellent properties and is available in different shore hardnesses and grades each suited to different industries. Nitrile rubber sheets are excellent for creating air, dust and watertight seals, with good tensile strength, anti-abrasion properties and resistance to petrol, mineral & vegetable oils and some acids and alkalis, the material also some flame retardancy, and a working temperature range of -20°C to +70℃. 
Nitrile rubber sheets are mostly recognised by the material's resistance to 'swell' when under exposure to oils and fuel, therefore holding its sealing capabilities making it a popular choice for automotive belting, hoses, o-rings, and oil seals within engines, hydraulics and flanges.
Advanced Seals & Gaskets Ltd have a network of material suppliers and manufacturers, meaning we have access to various grades of nitrile rubber which include:
(British Standard ) BS 2751 Nitrile is higher quality synthetic elastomer compared to commercial nitrile in terms of it's improved elongation at break, tensile strength and resistance to a broader temperature range of -30°C up to +110°C. BS2751 nitrile is manufactured inshore hardnesses of 40° to 80°.   
Blue Metal detectable nitrile rubber is a synthetic elastomer that is manufactured with an additive visible to metal detector scanners. This grade of material has excellent tear and abrasion resistance and is suitable for food, beverage and pharmaceutical applications as a way of detecting and reducing contamination.
Food Quality (FDA) Nitrile rubber is available in white or blue colour options, both conforming to EC & FDA regulations, for use within food and pharmaceutical processing industries where the material needs to be resistant to vegetable oils, animal fats, fish oils and greases. 
Benefits of Nitrile Sheet
Water, mineral/oil, petrol resistance.

Can be formed into complex seals and extrusions

Abrasive resistant

Water Proof

Excellent sea against gasses

Excellent for automotive applications
Advantages of Using Nitrile Sheets
There are many advantages to using Nitrile rubber sheets as the material is highly versatile and robust, this matched with the high resistance to oils, gases, fuels, grease, water and most acids makes nitrile rubber highly sought after in many industries including automotive, construction, oil and aerospace. 
Nitrile rubber is a highly effective sealing material for keeping out dust particles, hazardous gases, which is strong and durable meaning it can be easily cut into the desired profile without the risk of tearing or stretching the material.
Have a Question about Nitrile Sheets?
Please contact us using the form below or by calling us on +44(0)1384 252555.