Polyurethane Rubber Strip
If you are looking for Polyurethane Rubber Strip products you are in the right place.
Advanced Seals & Gaskets Ltd manufacture a huge quantity of strip products annually from non-metallic materials such as foam, cellular sponge, solid rubbers, polyethylenes and much much more.
We produce ALL of our products bespoke to the customers requirements under the watchful eye of our Quality Management System which is certified to ISO 9001.
Advanced Seals & Gaskets Ltd we are able to manufacture Polyurethane Rubber Strip in a range of hardnesses form 40° shore right through to 90° shore and in almost any colour or thickness.
Polyurethane Rubber Strip offers amazing properties in comparison to a lot of other strip products.
More resistant to wear than mild steel
Greater impact resistance than some engineering plastics such as nylon
Superior compression set in comparison to rubber
Polyurethane Rubber Strip attributes;
Heavy load bearing
Highly durable
Light weight
Impact resistant
Non conductive
Resistant to corrosion
Resistant to oils and chemicals
Ozone resistant
Solid Polyurethane Strip is impervious to liquids, gases and particles, and due to the flexible nature of the material this means that it is also ideal for gaskets, seals and washers.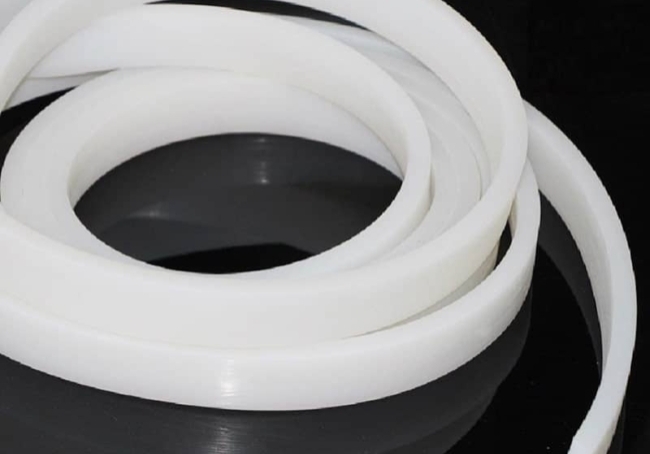 If you would like to speak to a representative to discuss your specific application or requirements please call our sales office direct on 01384 469100, alternatively you can send an E-mail. Simply click on the link and forward us your details along with your question and we will contact you immediately.
Samples - Technical Polyurethane Rubber Strip
Samples can be submitted for testing upon request.
Call now for sample requests or further help.
For information on Polyurethane Rubber Strip please complete the following quick enquiry or call us on +44(0)1384 252555.
Full technical data can be supplied upon request,
or downloaded from our online portal.