An extrusion is a shape which is formed by forcing a material (plastic or rubber) through a die. The product is then cured in order to keep its shape.
Once the EPDM Sponge Extrusions have been cured this allows accurate dimensions and tolerances to be obtained and held.
Advanced Seals and Gaskets Ltd have developed relationships with global suppliers over many years and this has resulted in the ability to source the very best in compounds at extremely competitive prices, thus allowing us to pass on our cost savings to you, the customer.
Today Advanced Seals and Gaskets Ltd is one of the leading suppliers of EPDM Sponge Extrusions within the UK and are able to offer many stock profiles along with bespoke requirements and a design service for new applications.
If you can't see what you are looking for please ask us  - we have the ability to produce bespoke requirements.
EPDM Sponge Extrusions are used in many areas of industry including:
EPDM Sponge Extrusions can be supplied in a range of, densities from 0.30g/cc to 0.80g/cc with varying hardness and colours. It can also be manufactured with dual hardness and co-extruded with dual profiles. If preferred it can be cut to specific length and/or supplied with an adhesive coating.
EPDM Sponge Extrusions are generally very soft and flexible thereby offering an effective seal against liquids and gases. The lighter densities offer significant weight reduction and require only light compression to provide an effective seal. EPDM Sponge Extrusions are also resistant to, UV light, ozone and many other elements.
EPDM Sponge Extrusions have excellent aging properties and good thermal resistance making it the perfect product for various applications. We are also able to cut the EPDM Sponge Extrusions to length and vulcanise together to form a ring or introduce moulded corners to form seals, joints and frames from the chosen profile.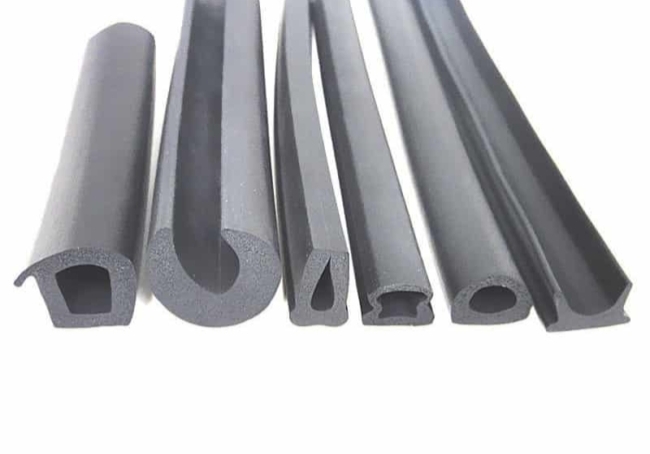 The image show a small sample of our most common profiles.A selection of Extrusions including EPDM Sponge Extrusions
Key formats of EPDM Sponge Extrusions are
Various densities
Various hardness
Single profiles
Co-extruded profiles
Dual polymers
Adhesive backed
Cut to length
Vulcanised seals and joints
Extensive profiling possibilities
Tubes
Cords
Whether you require EPDM Sponge Extrusions as a small 'one off' quantity or whether you are high volume 'end user' the staff here at Advanced Seals and Gaskets Ltd has the production capability and technical knowledge to assist you in your purchasing process.
Samples - Technical EPDM Extrusion
Samples can be submitted for testing upon request.
Call now for sample requests or further help.
For information on EPDM Extrusion please complete the following quick enquiry or call us on +44(0)1384 252555.
Full technical data can be supplied upon request,
or downloaded from our online portal.